Posted by Evergreen ID Systems on 27th Aug 2014
Student ID cards have had a hugely positive impact on the way that schools are run, from Kindergarten classrooms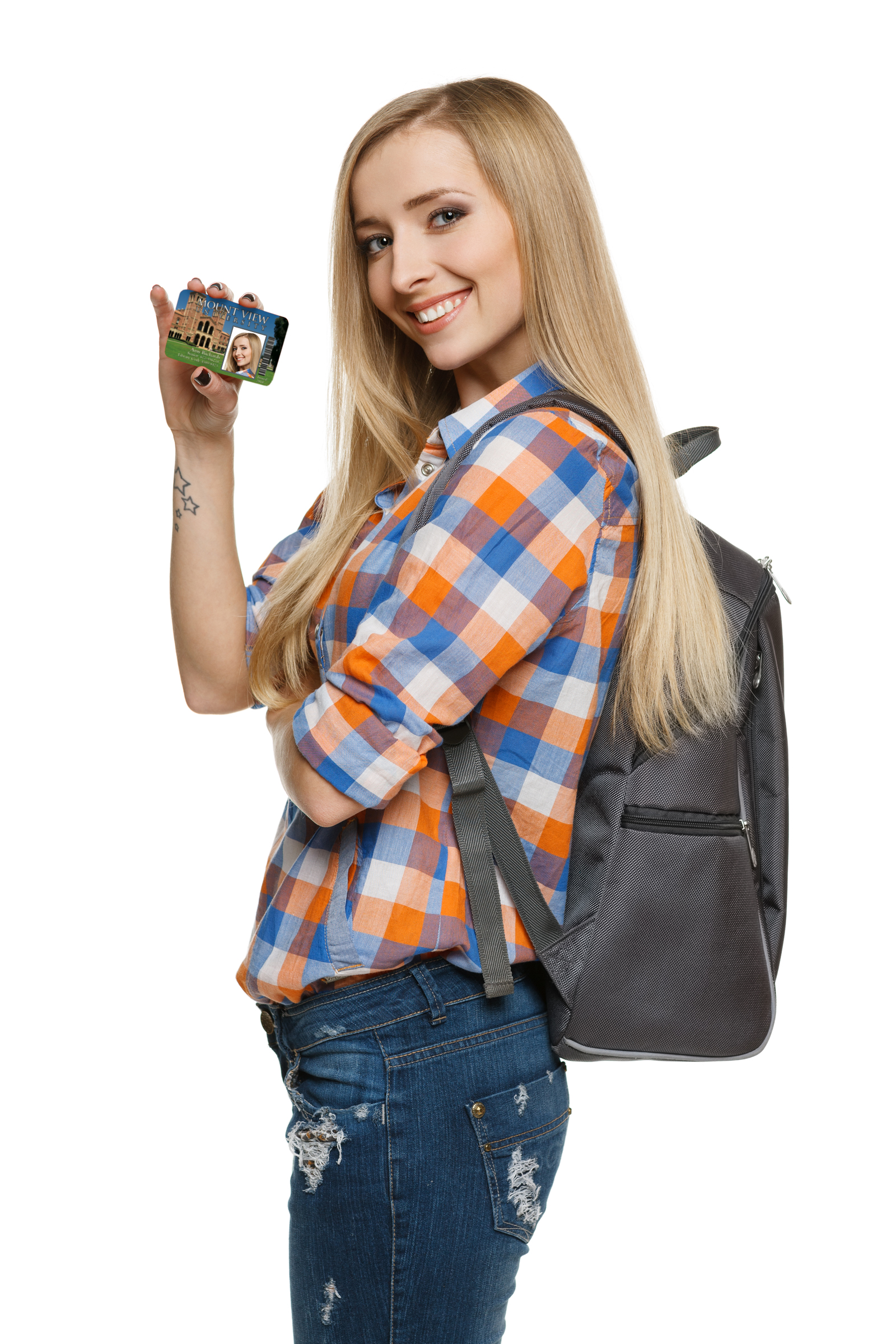 to
college campuses. These cards make it easier for students to access services and restricted areas while also making it easier for administrators to provide this access while maintaining security, cost-controls, and auditable records. Schools of all types and sizes have begin issuing student ID cards to help manage the challenges of education in the 21st century. If you are thinking of issuing cards, be sure that they contain these 5 essential elements.
Student ID Card Pictures
All student ID cards should have a picture of the student's face that is large enough and clear enough to be easily scrutinized. Including a picture is an important step, because it creates a clear link between the person using the ID and the proper owner of the ID. Using the most direct kind of visual shorthand, anyone who examines the ID can tell if it is being used by the rightful owner.
Identifying Information
Student ID cards contain varying kinds of identifying information. Some simply include a student ID number and a name, while others have phone numbers, addresses, ages, and personal details. It is important for the institution issuing the ID to consider this issue carefully. If too much information is included, it raises concerns about privacy and security. But if too little is included, it could diminish the utility of the IT. Consider the makeup of the student population and the purpose of the IDs to help you determine what is appropriate and necessary to include.
Careful Layout and Design
The goal of student ID cards is to provide an authoritative document that can quickly and easily be examined. In some instances, a person may have to inspect dozens or even hundreds of these IDs in a very short span of time. That is why the layout of the card should be clear and uncluttered, and the design should use easy-to-read fonts and appropriately sized text. The goal is to make the essential information contained on the card simple to understand and quick to comprehend regardless of who is looking at the card.
School Colors and Mascots
Using your school colors and even including a picture of your mascot in the corner serves two functions. First, in a small but significant way, it can help to promote school spirit and create a feeling of solidarity amongst the student body. Second, it clearly identifies your school as the issuing organization. That makes it easier for outside parties to verify that the card is real, and makes it easier for students to find the card in wallets or purses that might contain multiple cards and IDs.
Technology
It is up to you to decide if your student ID cards need to have technology like a magnetic stripe or a barcode built in. If students won't be suing the cards to open doors or gain entry to the cafeteria, it might not be necessary. But the benefits of linking a card to a broader technical system are significant, and they solve a lot of common problems with one simple solution. As you are evaluating your needs, investigate the total cost of this kind of technology, and be sure to think about the way your needs will evolve in the future.
The final thing thing to emphasize is that the cost of making quality student ID cards is less than ever, and the technology to do it can be mastered by even a technical novice. There is no compelling reason not to do it, and you could be missing out on exciting advantages and possibilities if you resist it. Partner with the team at Evergreen ID Systems to find the equipment and expertise you need to begin issuing outstanding student ID cards.